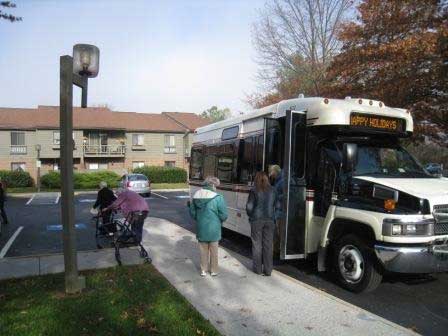 The service provides reserved trips for the Warm Hearth retirement community three days a week from 10 a.m. to 3:15 p.m. Trips are available to Christiansburg on Tuesday and Thursday. Trips are available to Blacksburg on Wednesday and Thursday. All intra-village trips are free. Otherwise, standard BT fares apply. Reservations can be made up to two weeks in advance by calling 540-961-1803 from 7 a.m. - 5 p.m. All trips are available on a first come, first serve basis.
For more information please call us at 540-443-1500
Information about the Warm Hearth Service
The Warm Hearth service provides reserved trips on Tuesday, Wednesday, and Thursday to areas including LewisGale Hospital Montgomery and locations within the Warm Hearth community. The Warm Hearth service is funded through senior transportation grants provided by the Virginia Department of Rail and Public Transportation with local funding provided by Warm Hearth Village. The Senior Transportation Program was established to provide increased quality and quantity of coordinated transportation services for older adults.